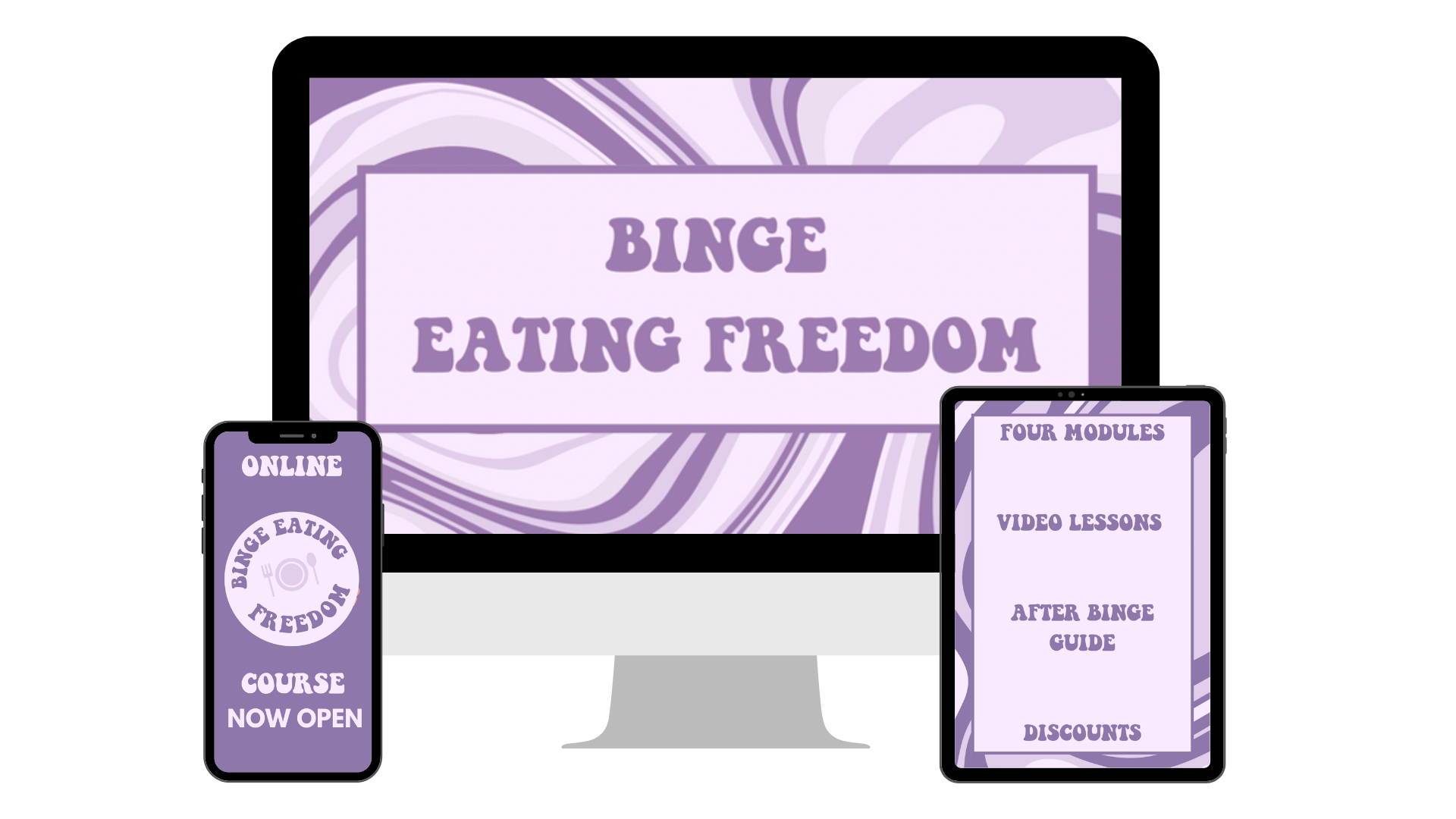 In Binge Eating Freedom, I take you through the exact process I take my 1:1 clients through so you feel empowered to take action and not ashamed. This course not only gives you the tools to gain back control of your relationship with food, but I also provide you with the knowledge about why we binge in the first place.

- There is no fat shaming, no guilt-tripping, or gaslighting. We know that you know your body better than anyone else and that shaming is never helpful nor fun! We want to help you build a relationship with food that is fun, not shame-inducing!
- You will get to the root cause of why we binge and have an abundance of tools to help gain back control
- You will know how to your resources through self-compassion, which shifts your physiology from threat/hatred to care.
- We include an "after binge guide" to help you self-soothe and navigate any physical or mental discomfort. Because you deserve care and support at all times.
- Binge Eating Freedom is a fully self-guided course, meaning that you'll go through the contents at a time, place, and speed that suits you.
- You'll learn how to feel confident and comfortable having your binge foods in the house
- You'll learn about how the nervous system can influence binge eating and how to care for your nervous system
- You'll learn how to reconnect with your hunger and fullness cues in a caring and curious way
- You'll learn about the different types of hunger and how we can best support our body and health with this knowledge
- You'll learn how to cultivate body neutrality, respect, and acceptance
- Much, much more!
We hold inclusivity and accessibility as a top priority so we offer payment plans and scholarships. If you are interested in our scholarship program then please don't hesitate to reach out via email: [email protected] and my assistant will get back to you within 24 hours.